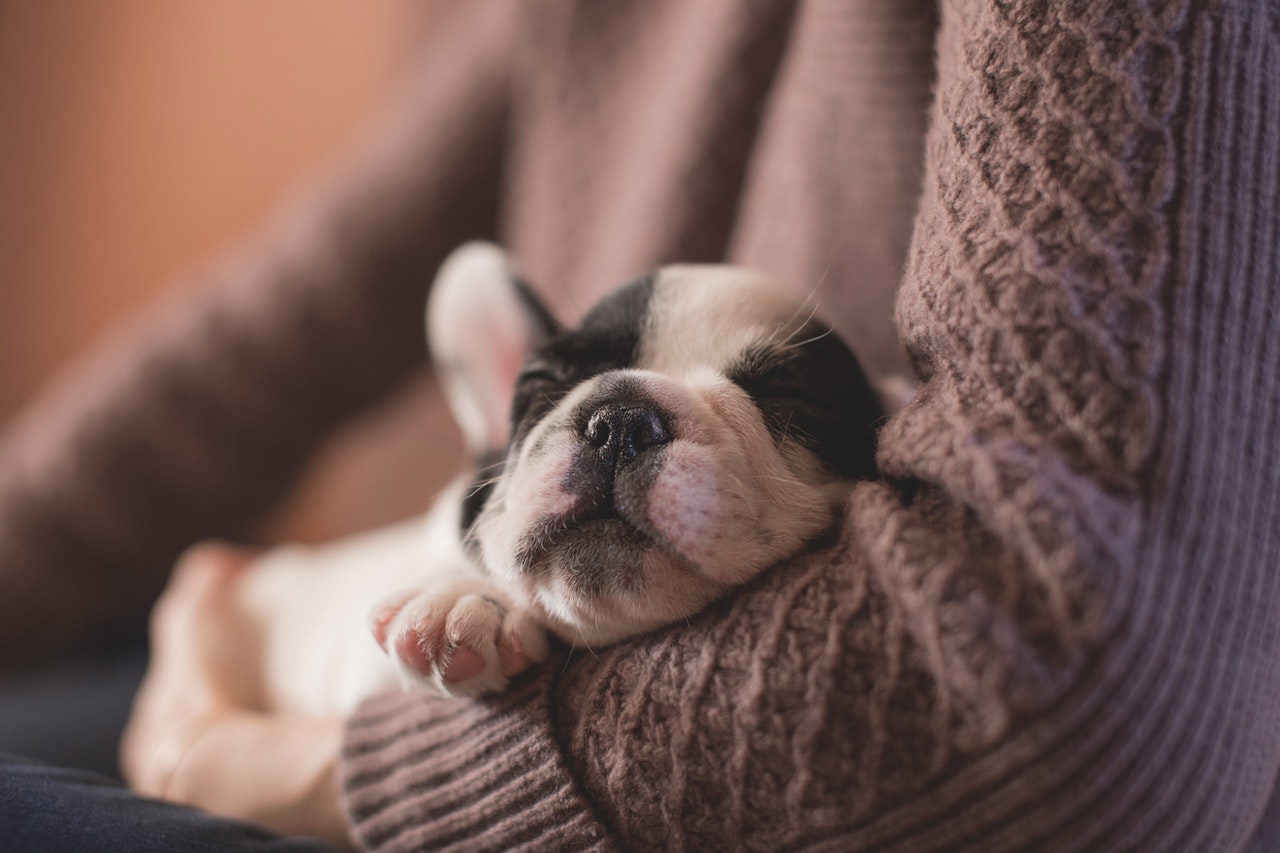 Why would someone ask for the best puppy sleep training products when your puppies can sleep with you peacefully? Here's why.
Puppies are beautiful creatures. One day they would want to play with you all day, but other days, they would just jump into your bed and snuggle. While snuggling with your pooch might feel relaxing, there is absolutely no way you can keep it that way. Therefore, vets and dog experts suggest sleep training your puppies as soon as possible.
How To Crate Train A Puppy
To ease the process of potty training and leash training, it is imperative to crate train your puppy first. Sleep training would be the first step in teaching your dog, not to pee or poo where they sleep and eat. So, effective crate training requires patience and devotion of the dog owner as it is the first most difficult step in training your dog.
Make a schedule and stick to it
Scheduling daily activities make everything easier for the puppy and dog owner. By creating a timely routine, you tend to make everything easier for your dog. Your puppy would know when they need to get in bed and leave accordingly.
Get a large puppy crate
Buy a crate large enough to fit you in. Sometimes, your puppy would need you by its side, and therefore, a large crate would allow you to fit in along with additional dog toys and accessories.
Introduce the crate nicely
Your puppy would only enjoy the crate if he is introduced nicely. At first, put some treats and toys to attract the pooch. Don't forcefully make him sleep or sit in the crate. Otherwise, they would end up hating it.
Encourage the behavior
Encouragement goes a long way. Puppies are hungry for love and appreciation. So, when your pooch obeys your commands and gets in the crate. Reward him and continue the positive reinforcement until the pup is fully trained.
The Good Sides Of Sleep Training Your Puppy
There are several advantages to crate training your puppy. Out of which, some are listed down below:
Protection
Sleeping soundly in the crate designed for your puppy keeps the dog away from harmful household appliances such as electrical circuits and other chemicals.
You can also take the crate anywhere you go to ensure the peaceful slumber of your pooch.
Privacy
Everyone needs privacy. Animals sometimes react differently to various situations. So, a nice puppy crate allows them to sit, play, and sleep isolated from the external stimuli.
Hygiene and Cleanliness
When your pup gets used to a neat and clean environment, it would be fairly easy to potty train them. Puppies learn from natural instincts that it's not okay to pee or poo where they sleep or eat, and so they would maintain the cleanliness themselves.
Best Puppy Sleep Training Aids
Following the tips and tricks mentioned in this article, there are some best puppy sleep training products in the market that would ease the struggle of crate training.
The large single door is easy to open, close and securely lock with dual latches on larger models.
Convenient divider panel allows the crate to expand as your pup grows.
Easy to assemble with no tools needed.
Easy-to-clean, durable plastic pan included.
Fold-and-carry construction with adjustable handles makes it great for travelling.
TRY Frisco Fold & Carry Single Door Dog Crate
Stylish ultra-soft synthetic sheepskin looks great and enhances any décor.
Keep your pet comfortable in your house, in her crate, carrier or in your car.
Cleanup is easy thanks to the machine-washable fleece.
Made with polyester-filled bolsters, and a cushioned poly/cotton base.
Provides your pet with a comfortable space to rest up.
TRY MidWest Quiet Time Fleece Dog Crate Mat
Versatile, ultra-plush crate and carrier mat can also double as a standalone pet bed.
Tufted, polyfiber cushion offers a thick layer of comfort whether he's traveling or taking a nap.
Polyester top keeps him cool in the summer and warm in the winter.
Machine washable design allows you to use it over and over again, and the non-skid bottom keeps it from slipping around.
Specially sized to fit a variety of spaces, including many carriers, crates, dog houses and vehicles.
TRY Frisco Mocha Swirl Dog Crate Mat
The ideal crate for any trip, Frisco Two Door Top Load kennels are made for both safety and comfort.
It's easy to assemble or take apart, and one half fits inside the other for storage.
Using environmentally friendly materials, Frisco Two Door Top Load Kennels are made with 95% pre-consumer recycled plastic content.
The hard, plastic shell is easy to clean, and your pet's paws stay dry with a moat that surrounds the interior floor space in case of accidents.
Wire mesh front and top doors give you access to your pet but stay secure during travel with spring-loaded latches.
TRY Frisco Two Door Top Load Plastic Dog Kennel
Perfect for on-the-go pet parents with the easy-to-fold design that also makes it compact for convenient storage.
Lightweight construction makes it quick and easy to set up with no tools required, so it's perfect for camping, car trips, hotels, and inside your home.
Features three zippered doors on the top, front, and side for convenient entry and loading for your pet.
Constructed with a steel frame and a water-resistant base to keep your pet secure and comfortable.
Available in sizes ranging from 21 inches to 42 inches long to accommodate pets up to 85 pounds.
TRY Frisco Indoor & Outdoor 3-Door Soft-Sided Dog Crate
Soft and cuddly plush toys made with an extra layer of material, so they're extra tough.
Minimal filling for less mess around the house.
Perfect for a game of fetch or as a comfort toy for your furry friend.
Squeaks to help entice play for extra excitement.
Available in two different sizes: Small and Medium, so you can pick the perfect size for your pup.
TRY KONG Cozie Marvin the Moose Plush Dog Toy
Unpredictable bounce is great for energetic puppies and helps establish appropriate chewing and playing behaviors.
Made in the USA from globally sourced materials.
Perfect for stuffing with KONG Stuff'N Puppy Easy Treat Paste and Snacks for longer-lasting play.
Relied upon by veterinarians, trainers, and dog enthusiasts for over 40 years.
Specially designed for soothing teething puppies' gums.
TRY KONG Puppy Dog Toy
Plush gorilla dog toy is made with materials to provide unlimited play potential for energetic dogs.
Features a built-in squeaker inside to make playtime even more exciting.
Designed with a soft material that's paw-fect for snuggling.
Toss it, launch it, squeak it—it's the go-to toy to help keep your pup active and healthy.
Large plush toy perfectly sized for small to giant breed dogs.
TRY Frisco Muscle Squeaking Gorilla Dog Toy
Adorable toy reduces negative behaviors resulting from anxiety, such as whining and barking, through natural instinct, not through medication.
Recreates intimacy with physical warmth and a simulated heartbeat which eases crying, loneliness and separation anxiety in pets.
Disposable warming pack provides an extra source of comfort for your pet and is all natural, odorless, and simple to use with no electricity, no microwaving, and no mess.
Easy to clean, the plush toy is machine washable with the heart removed.
Pulsing heartbeat lasts up to two weeks of 24/7 use on just one set of AAA alkaline batteries (included).
TRY Smart Pet Puppy Behavioral Aid Dog Toy
You get six handpicked puppy products bundled together into one uniquely designed box to save you time and money too.
Crafted just for puppies—includes training treats, a leash and poop bag dispenser, a cuddly toy, a latex toy and a bottle of shampoo made just for pups.
Makes a great puppy starter kit for your own new friend or a pup parent you know. It also makes a great adoption anniversary or Gotcha Day gift for a friend as well.
Hand-picked by pet parents for pet parents, so you can be sure your puppy gets all the good stuff.
No subscriptions needed—pick up just one or as many as you want, whenever you want them.
TRY Goody Box Puppy Toys
Conclusion
Puppies are adorable. But before you get yourself a newborn pup, make sure you have all the information to crate train the puppy. Half of the training is done when you sleep train your puppy, therefore follow the tips in this article to train your dog effortlessly.