When it comes to choosing the best puppy food brand for puppies, there are tons of options. We have listed 6 of the best puppy foods for you. It can be overwhelming for a dog owner to decide between the top brands and their products as they all claim to be the best for your pup.
Puppies are in a developing and growing phase. Puppyhood is the stage when a pup's bones, teeth, other body organs develop and the whole body structure is formed. Therefore, it is essential to provide the pup with the required nutrients so they grow healthy and happy. Dog food never suffices the needs of puppies, and therefore you should always check the labels before buying food for your new friend.
Generally, puppies are considered being in puppyhood until they reach one year of age. After they turn one, 80% of their body organs have developed and so you can give them dog food after discussing it with the vet.
Types of Puppy Food
Vets classify puppy food into four different types depending upon the pup's health, growth, size, and activity.
Dry Food
Most of the puppy food comes in the form of dry kibble. Since the puppy is just getting ready to wean off mom's milk, the dry puppy food is mushed or soaked until the puppy can fully ingest the dry food. For the first few weeks, the puppies won't be interested in dry food and will consume the wet food, however, as soon as they reach 9 or 10 weeks, they take the dry food.
Wet Food
Wet puppy food is the best alternative, especially if your pup is weaning at eight or ten weeks. The puppies enjoy wet food more than the dry as it provides more flavor and closely resembles meat. Also, wet puppy food contains higher moisture contents that help the puppies with urinary tract conditions and constipation.
Freeze Dried Food
Freeze diet food is puppies' favorite food as they contain muscle meat, organs, ground bones, vegetables, and fruits. They hardly contain artificial additives or preservatives and are mostly gluten and grain-free.
Human Grade Food
Human grade dog food is one of the most wholesome foods available in the market, which is made from the top ingredients because they are edible for humans as well. They are the most flavorsome foods for the puppies as they contain organic, holistically formulated ingredients that make a positive impact on the puppy's health and growth.
6 Of Our Best Puppy Food Picks
Grace your puppies' taste buds with the balanced diet with this taste of the wild high prairie puppy formula. This unique dog formula contains high quality roasted and smoked meat, fish, and poultry.
It's a grain-free formula specially designed for small, medium and large breeds and contains peas and sweet potatoes that are enriched with fibers and quite helpful in digestion.
Advantages
It has all the ingredients for your puppy's better health and support system.
Provides lasting energy with complex carbs from sweet potatoes and legumes
Supports the immune system of puppies
Absorbs nutrients
Maintain pet's skin, coat health and overall wellness
TRY TASTE OF THE WILD
This formula contains DHA and ARA to support healthy brain and vision development. American Journey Chicken & Brown Rice Protein Puppy Dry Food is the best affordable puppy food that your furry fellow will love.
It contains 100% real chicken, therefore, no chicken by-products and artificial alternatives are used.
Advantages
Helps support healthy development and growth
Supports healthy muscles with delicious flavor
Contains Calcium and Phosphorus that help support proper bones and teeth
Contains antioxidant blend that helps support the immune system
TRY AMERICAN JOURNEY
Dogs and wolves are alike on so many levels. Therefore, this formula is inspired by the diet of wolves, it is a grain-free formula but rich in meat to provide your puppy with a higher concentration of turkey and chicken he enjoys.
Advantages
It is enriched

with vitamins and minerals to provide your puppy with a strong immune system
It has DHA which is an important fatty acid mainly found in mother's milk during the lactation period. DHA supports cognitive learning and retinal functions in puppies
Improves gastrointestinal functions and boosts the immunity system
Promotes healthy muscles and bone development
TRY BLUE BUFFALO WILDERNESS
This formula is best suited for larger breeds of dogs who weigh after 50 pounds when they enter adulthood. Since larger breeds require a precise blend of nutrients, you can count on this formula dry dog food to cater to their needs.
Advantages
Provides essential building blocks your puppy needs for survival and to grow healthy and strong
It provides probiotics to support a healthy digestive and immune system
Contains no artificial colors, flavors or additives
Calcium supports strong teeth and bones for development
TRY PURINA PRO PLAN FOCUS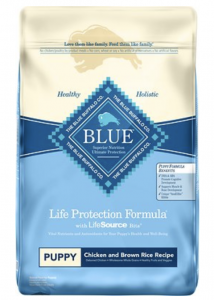 This original healthy dog food formula offers high-quality real meat, wholesome fruits and healthy whole grains to dogs of all breeds. It's made from 100% natural ingredients enriched with minerals and vitamins.
 Advantages
Contains nutrients having natural fibers such as chickpeas and beet pulp that help in digestion and maintaining a healthy metabolism
As nutritious as the mother's milk, having the key ingredients such as Choline Plus, DHA and ARA Fatty acids that support cognitive learning and improve vision
Loaded with essential vitamins, minerals, and antioxidants to improve the immune system
Omega-3 and 6 fatty acids help in improving the skin texture and developing a healthy coat
TRY BLUE BUFFALO LIFE PROTECTION
Made from the highest and freshest ingredients, this grain-free beef recipe serves like the homemade dog food with a delicious taste that your dog would love. Tylee believes in quality and thus this formula is made with 100% real, human-grade protein for you and your canine.
Advantages
It has chia seeds, sunflower oil, and ground flaxseeds which are enriched in Omega-3 and 6 fatty acids to nourish your puppy's skin and give a lustrous shine to the puppy's coat
Full of antioxidants, amino acids, vitamins, and minerals to support your dog's health and immune system
TRY TYLEE'S HUMAN GRADE RECIPES
Conclusion
In conclusion, puppy foods come in different textures, i.e. wet, dry, and freeze-dried food. You may choose the dog food that fits best for your puppy's needs considering its size, breed, age, and weight. However, the products and the brands discussed above are 100% recommended by the vets, you should still have a proper discussion with the vet to avoid any future inconvenience for yourself and the puppy.